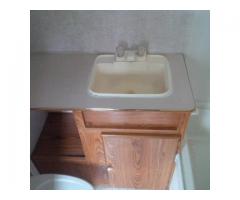 Beautiful 38 footer Mallard trailer camper for sale. Currently in Hastings. Come see it. Had water damage to the back of the trailer - pulled walls and floors in the back to let it dry and fix it later. Now all well insulated. Have no time due to work to do it.

Comes with propane tanks, spare tires, plated and ready to tow.

Where it's parked right now, the towing services are available on the spot at $3 a kilometre.